Alam's Chutneys & Pickles
''Four Generations of Favourite Family Recipes''
Uncompromised authenticity and tradition!
Spicy Mango Chutney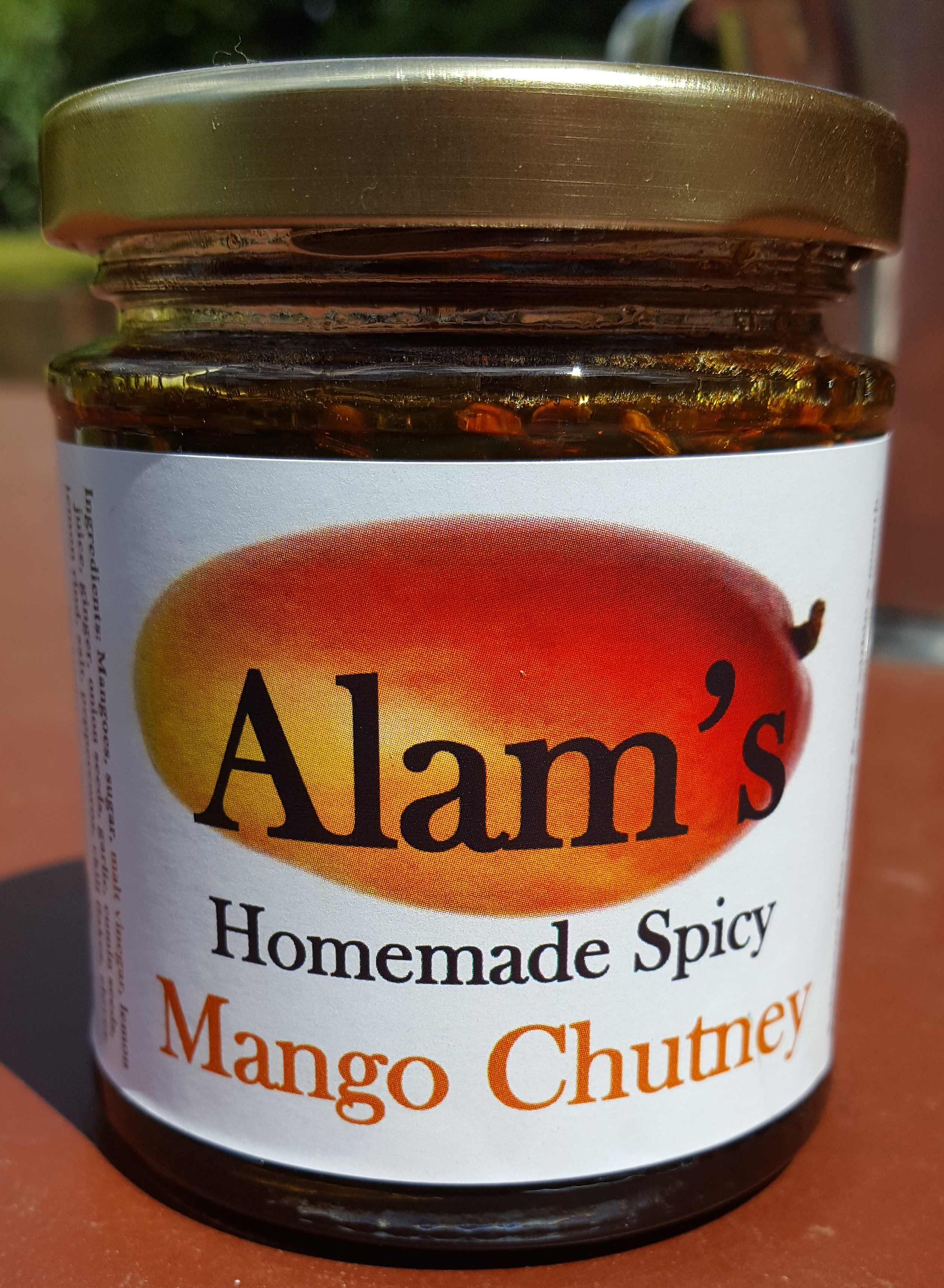 £ 3.50
Slivers of spicy mango in a sweet and tangy sauce.
Best enjoyed with your favourite starter like popadums, samosas or pokoras and bhajis.
Delicious with a pilaf or any fried rice dish.
Also try as a salad drizzle.
Delicious as a marinade for baked chicken or other meats. Just griddle pan fry, bake in the oven or BBQ.
Also fantastic with flash-fried prawns.
Great on a cheese board and reportedly, works amazingly with pork pies too.
Net contents: 212g
Spicy Tomato Chutney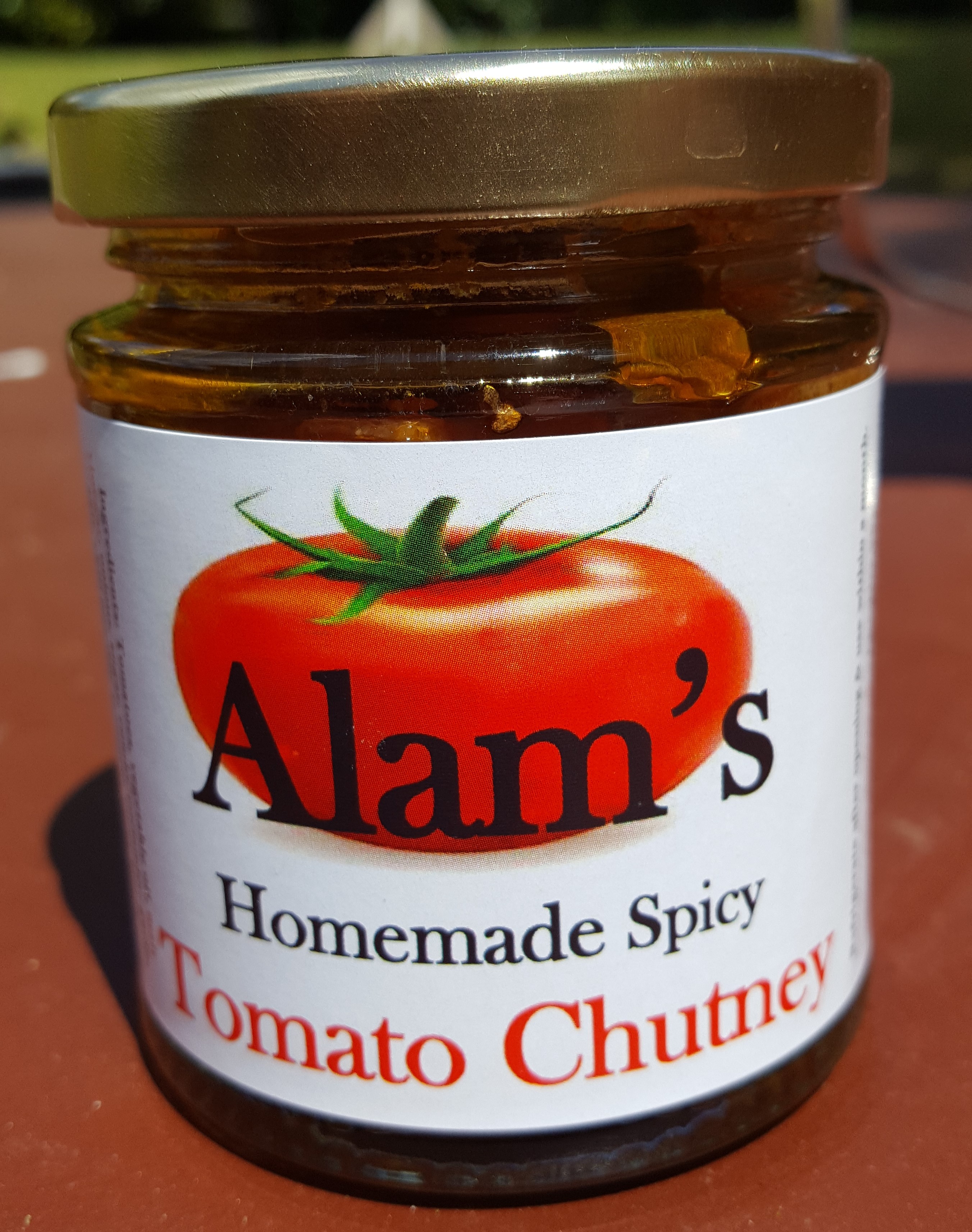 £ 3.50
Spicy tomato in a tangy and tarty sauce.
Delicious with freshly baked crusty bread or spread on plain bread.
Great as a side with any meal.
Try with crackers and cheese and also ideal as a pasta sauce or even as a pizza base.
Great on Brochetta and with garlic bread.
Love a curry? Try our tomato chutney as a curry sauce in your favourite meat or vegetable for an apetising main dish and serve with rice, chappaties or nans.
Net contents: 185g
Spicy Brinjal Pickle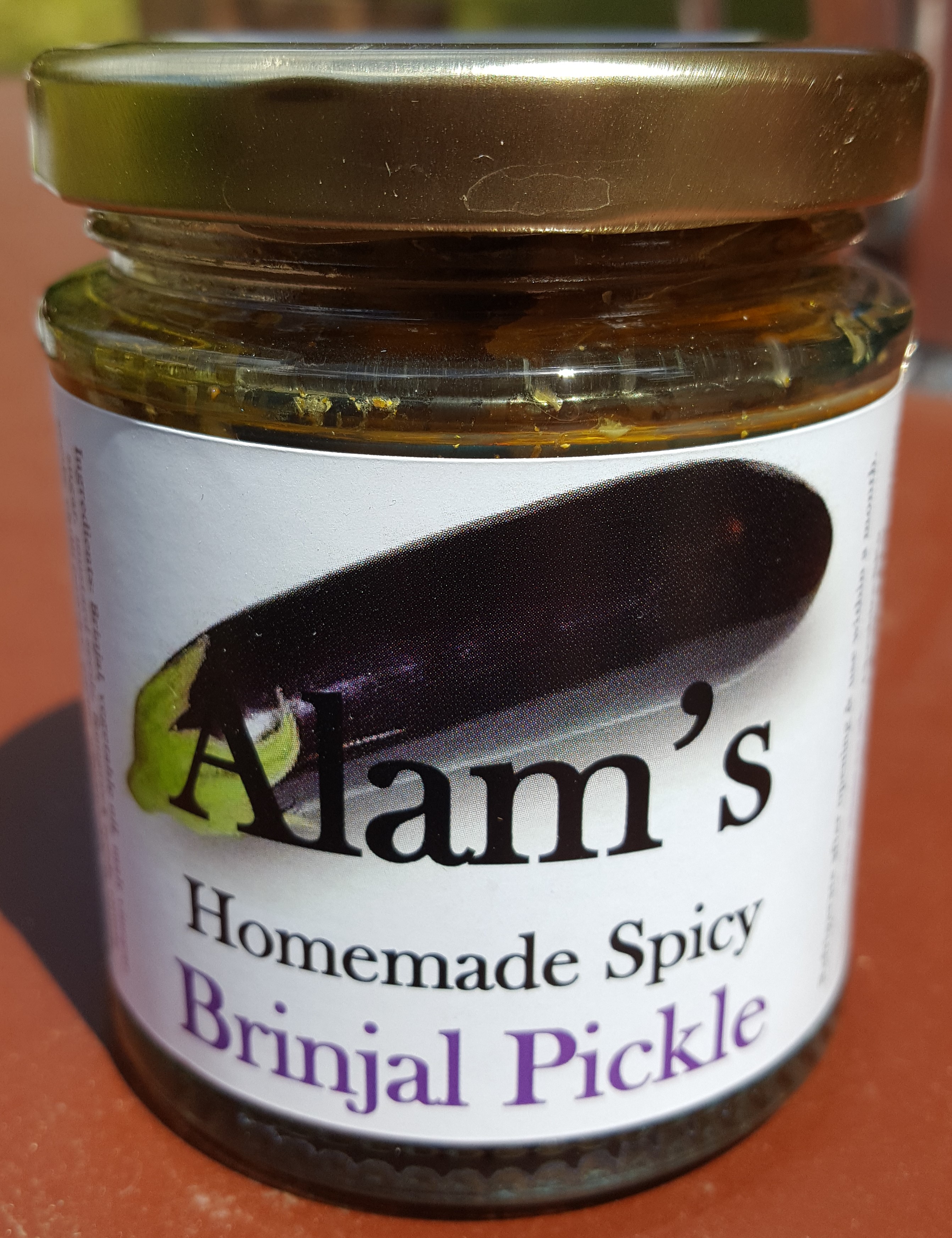 £ 3.50
Cool and refreshing, chunks of diced aubergine in pickling spices.
Best with your favourite Indian curry or dhal dishes with rice, popadums or with nans or chappaties.
Try tossing in some pasta with fresh cracked pepper and parmesan cheese for a great quick meal.
Can even be enjoyed in between slices of your favourite bread as a sandwich or spread on crusty loaf and buns.
Net contents: 175g
Spicy Lime Pickle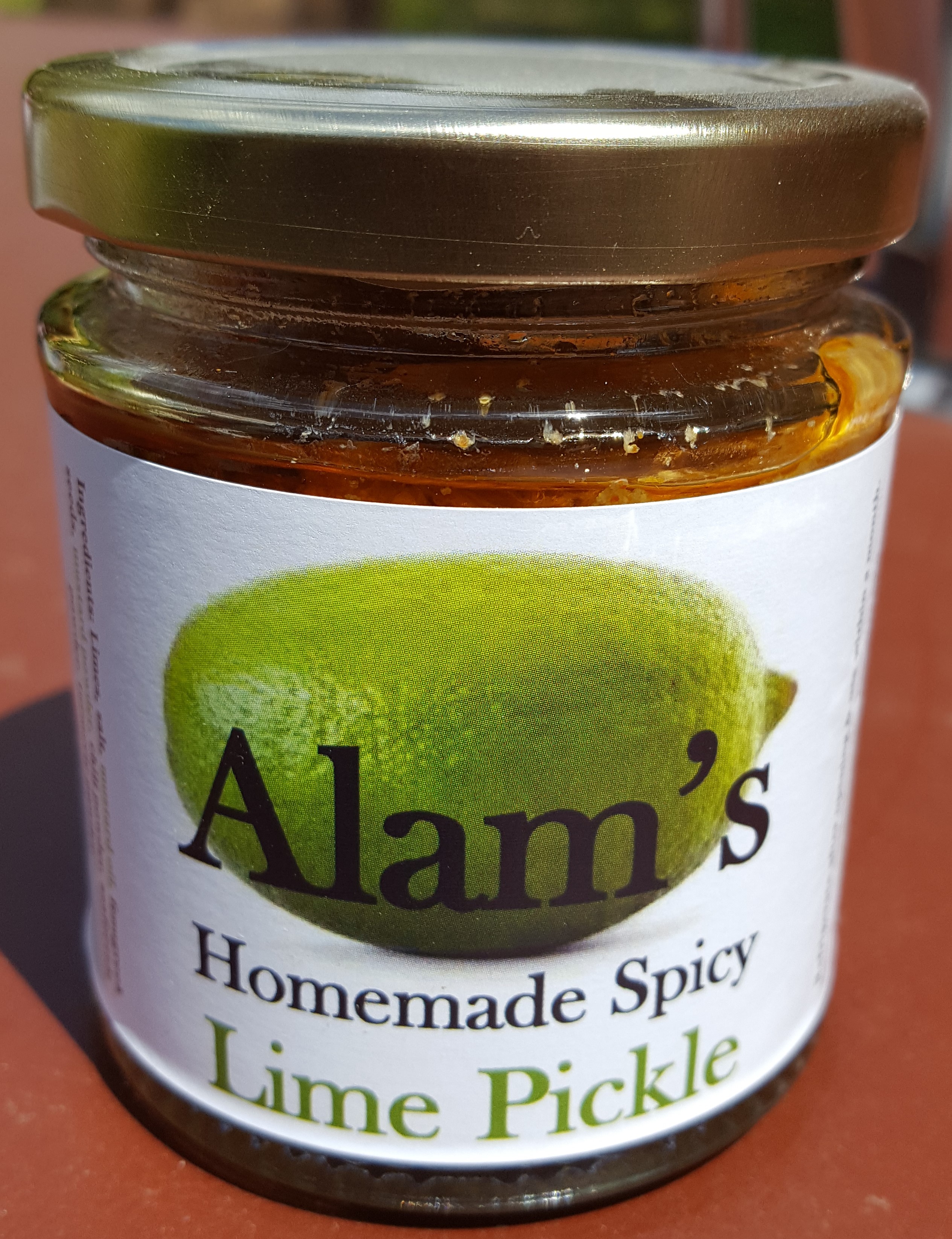 £ 3.50
An extremely flavoursome sour and hot combination perfectly blended with the natural juices of the limes.
Perfect with any Indian and South Asian meal, as a starter, with a salad, popadums or even in a sandwich.
Perfect too on a cheeseboard.
Net contents: 185g
Spicy Pickled Onions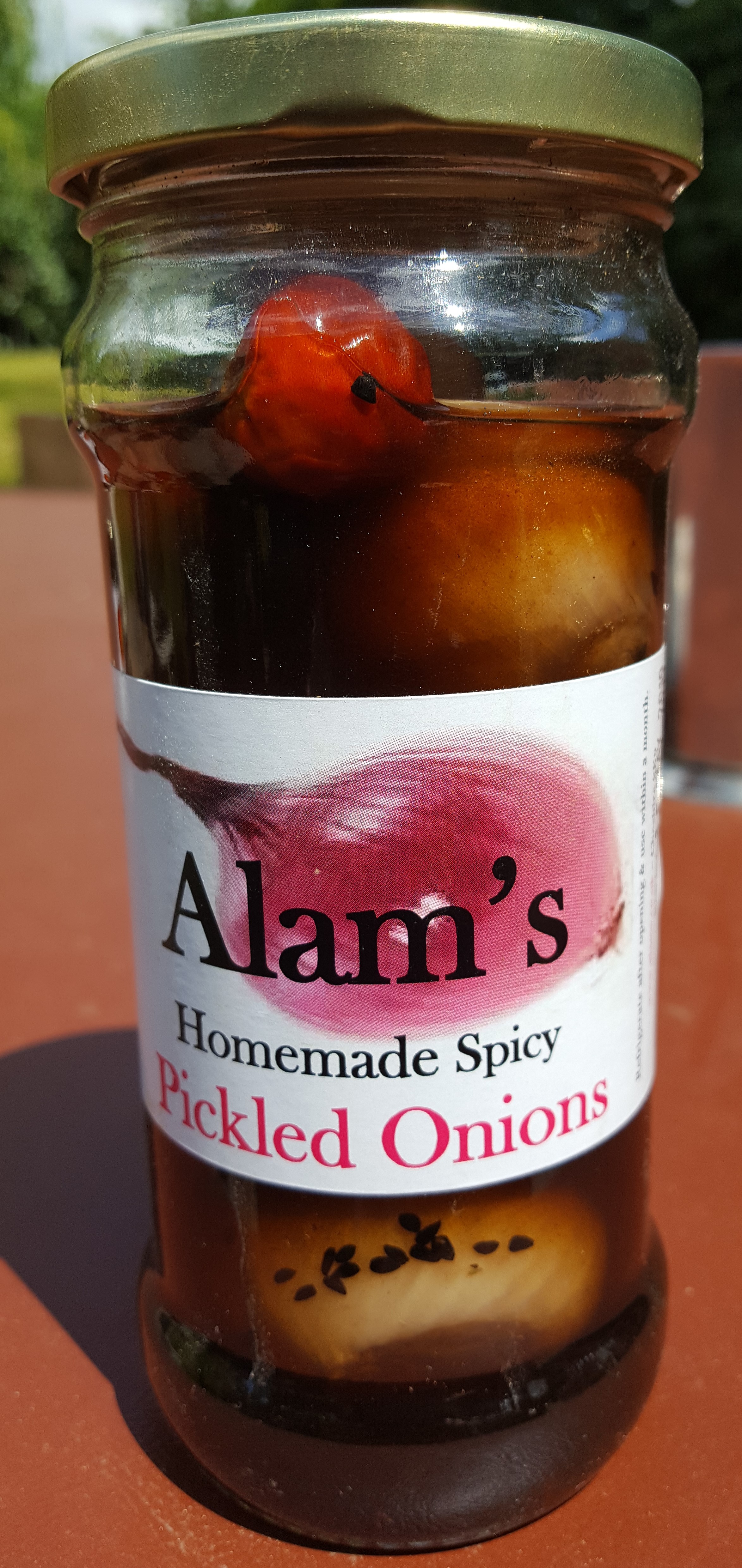 £ 3.50
Crunchy, sharp and tangy shallots seasoned with pickling salts and matured in vinegar.
Perfect with cheese and crackers, eaten plain or then served with any meal or as cocktails for guests.
Warning: Fiery hot!
Net contets: 330g
Spicy Chilli Pickle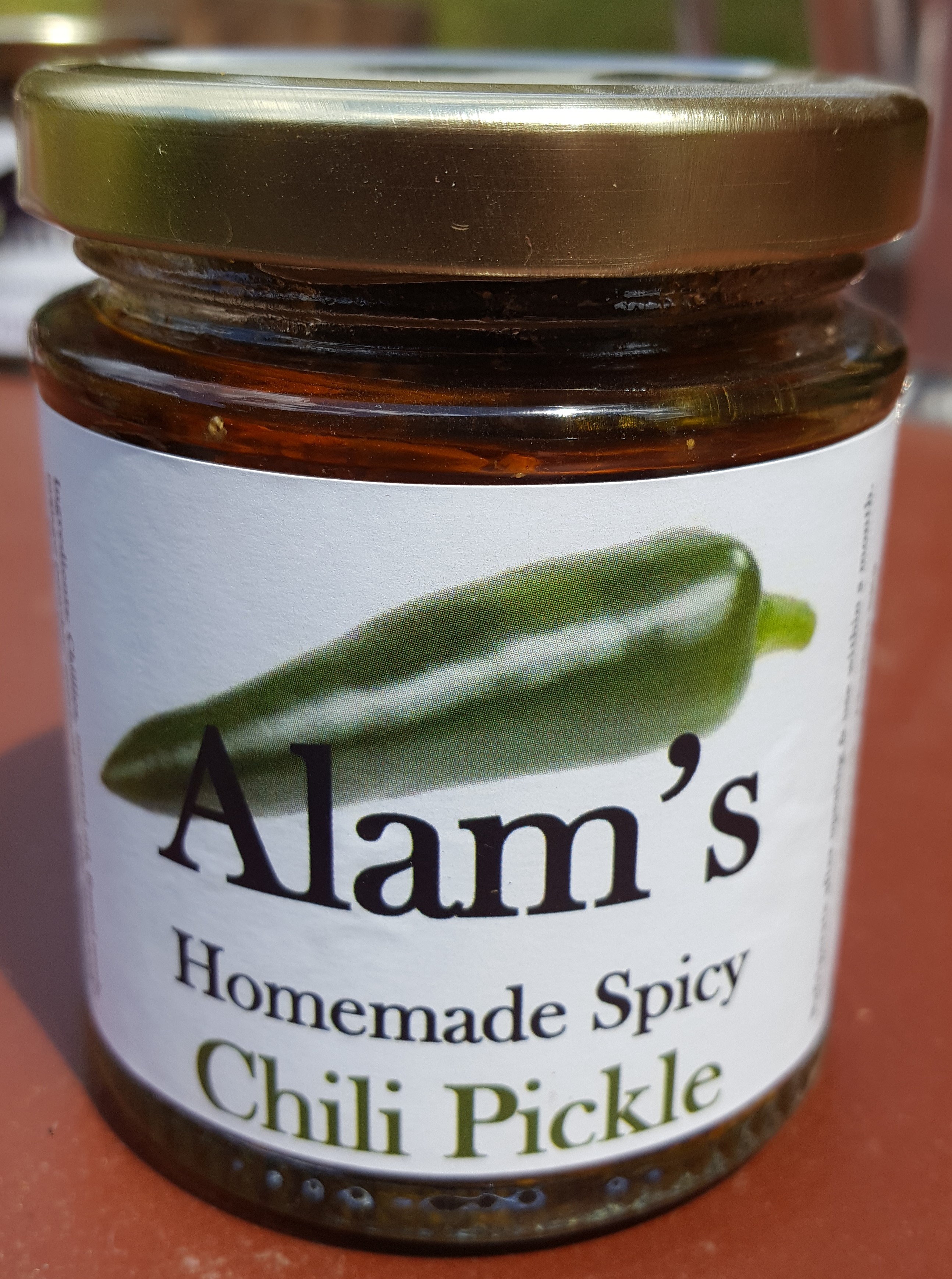 £ 3.50
Hot and spicy with a delightful tang, our newest pickle is aromatic and full-flavoured.
Doing yourself some mince? Just stir in a bit of this pickle for a suprprisingly delicious taste. Equally enjoyed chopped up finely in a salad and can also be enjoyed as a side on your cheese board for a nice kick. Of course, goes without saying, brings alive popadums and a raita with any curry.
Handling, Packaging & Postage
For order processing to UK Mainland, please proceed to checkout after adding required items to cart. Allow between 3 and 7 days for delivery. For any overseas orders and for orders above the value of £110.00, please contact Alam's to discuss charges and delivery time scale.
Postage and handling charges below are based upon value of order.
Up to £15.00 = £4.99
£15.01 to 35.00 = £5.99
£35.01 to £75.00 = £7.99
£75.01 to £110.00 = £9.99
Note: For orders above £110.00, please contact Alam's.
Large Quantity Purchases
Alam's also supplies delis, farm shops and specialised food outlets. Please feel free to contact us with your requirements, for any details and our wholesale price list by clicking on info@alams.co.uk and we will reply as soon as possible.
Terms and conditions apply.